Well. I wanted to get off the beaten track on this trip and today Sheree and I got off that F-kin path alright… Yes we have been up to a fair bit since Koh Phangan but today was so unreal I want to write it all down while it is still fresh and really, Bangkok was great and all and different parts blew my mind there, but todays experience blew my mind in ways that would make even the Bangkok GoGo girls blush!
Journey to Myanmar
We were headed for Dawei in Southern Myanmar. No one from our western world really travels here (yet). Tourists are definitely pouring into Myanmar since it opened up properly a few years back, but they are heading to Yangon and north. The south is relatively untouched and is a bloody adventure to get here. We knew this coming in and well, it is exactly why we chose to come here! It was going to be a day on local transport and a bit of winging it!
The day started fairly normal for our experience in Thailand so far… Got up at around 8 and went in search of some street food. Oh btw, our guest house (double room, air con for $7 each a night) was in just a local street too which was really cool. People at home would call this street a "back alley", and we were treated with observing local Thai life up close and personal. From the toddler up to the great grandparents all living together, cooking, drinking and sleeping all under the same (small) roof. Amazing. They treat their family so much better than ours, sticking together rather than shoving the oldies off to a home when they are too old to care for themselves. Sometimes I feel like we have much to learn from other cultures. Anyway I digress – we ended up eating in someones living room/"restaurant" near the bus station with some local bus drivers, getting simple rice and fucking hot chilli food for about 80 cents. Unreal.
We then found our bus to take us to the border (pictured). Sheree decided to grab some snack food before our local bus took off. She rocked back with a bag full of absolutely delicious skewered meats and sausage type things, cabbage and cucumber. She really knows how to find the delicious food this one! All up that cost us I think $2.20 total. Unreal!!!! Lol. Anyway we then met a guy called Steve, who told us he had come back to Thailand from Myanmar as he overstayed his visa by just 103 days. Slight hiccup apparently. Anyway it was great timing for us that he was on our bus as he writes a blog about Southern Myanmar and is pretty much i think 1 of 2 people that provide any tourist information about what is down here. He knows the other bloke by name. And that is about it for reference material for this part of the world! Apart from Steve, we saw 4 other Westerners all day, at the border crossing, coming back to Thailand from the Myanmar side. Talk about away from the tourist hordes! Yew!
Hover over photos for captions.
Getting to the border
After about 1.5 hours on the local bus, with a very steep final 4 km (which in itself was still a bit of a thrill for us,riding with the locals) we were dropped off at the Border station on the Thai side. Watching our bus leave felt a little bit like watching your boat drop you off in some no mans land – This was it – we were going to Dawei, Southern Myanmar.
Leaving the Thai side was very easy. Good English, a very small Passport Office where we got our stamp. Following this was a Thai bloke offering tickets to Dawei. We kind of wanted to Hitch hike the 6 km of no mans land but there wasn't much traffic going by and figured getting a ticket organised here all the way to Dawei would be ideal. We got in a fancy (for this border crossing apparently) minivan which took us to the Myanmar Immigration office (a very basic building). Already the contrast between the Thai side and Myanmar side was stark. We had left a town and entered a village. Most of the buildings were Bamboo huts and leaf-thatched roofs (some were half tin roof and some with steel poles too). I mean, you could still spot the "7/11" in that it sold the same shit, it was just that it was a bamboo hut.
The Difference 6 km makes:
Thai side
Myanmar side:
Already I was loving it. I felt like we had not crossed just a land border but a time border as well. It felt like Thailand but maybe in 1970. Seriously, If I was more of a scared sort of person I would have been shitting myself and wondering "what the hell have i done" at this point. The van then took us to another point in the village where we basically got into a guys car(!) with 3 young blokes. Myo Cho Cho and See Yoh hew (excuse the mis-spelling), two brothers from a little village outside Dawei. The third guy, I have no idea what his name was was in the boot, and when we dropped him off, he got out with 2 bags and a brand new boxed up LCD TV. Successful trip to Thailand then!? Also we are pretty sure that to fit in that boot he was sitting on his TV hahaha. You constantly get entertainment from these sorts of moments in travel. None of these guys knew ANY english. I mean NONE. Not even Hello. Amazing.
And if I thought this had been pretty unreal so far, we had a bit more coming. We were extremely high in the mountains at this point (See topo Map), and the remaining drive was basically 4 hours downhill extremely windy down to sea level on some bad roads (with a few stops for food, but I really think it was to cool the car engine down as the driver kept putting the hood up and spraying a bit of water in).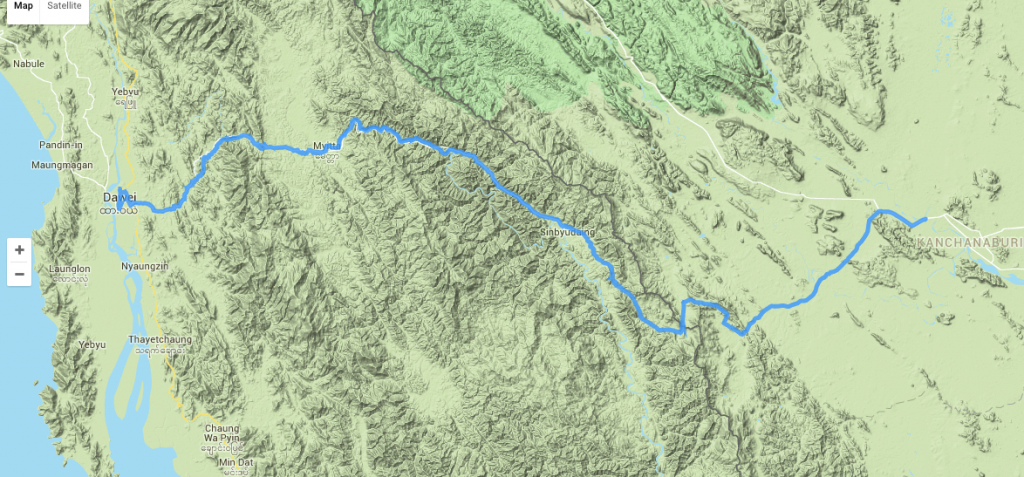 Basically, the feeling I got was, we had driven off Albany Highway I guess, into the back end of Dwellingup, but the road was in worse condition. Pot holes everywhere, and single lane, both metal and wooden bridges with planks of wood for where the tyres went. I did the Gibb River Road last year, and this made that seem like heaven. With no seatbelts in the back I hung on around countless corners every now and then getting our mind blown by scenes of (occasional) jungle, bushfires, and just really primitive bamboo huts and looking at a way of life that is just so incredibly different to ours. All the while being looked at by the boys next to me with their big smiles, and getting in the occasional photo (that I pretended I didn't know he was taking).
Now for the depressing part. These guys have deforested soooo much of the jungle that you can see from the road. And the bushfires? I can only presume they are burning the leftovers. As we moved further down from the mountains the fires stopped and the remaining pockets of jungle were being replaced by new plantations of some sort of tree. It was actually devastating to see. The only jungle left was on extremely steep sides of mountains. To see how thick this jungle was, was pretty heartbreaking. On the bright side, they were leaving alot of tracks that would be sweet on a dirt bike! I already think I will come back here and earn a living doing dirt bike tours here. It would be that sweet here seriously. Far from good medical care tho…. Anyway.
As we came down out of the mountains we were finally greeted by bitumen to our huge relief! But then the mountains started again and we found the bitumen was almost worse as the road was just as windy and the driver could now go twice as fast. We dropped the boys off somewhere down here and began the trip in to Dawei on the flats back on sea level. The difference in scenery between here and Kanchanaburi is incredible. We left dry dry dead jungle (extremely hot and dry, alot like our Kimberleys in the dry season) to come down here to lush greenery and rice Paddies. Cant believe it but it must have something to do with the mountains that we passed through.
Dawei itself is like a place (and i think it may be representative of the region and perhaps the country?) like none I have been to. The people look different to the Thais, some people look similar but then they kind of range to looking Indian, which makes sense as Myanmar borders India and Bangladesh. All of this was so unexpected to us both. But more interesting for us, Westerners are obviously not a common sight here as everyone looks at us, we have replied hello to at least 35 strangers already and the kids all wave to us with curious looks on their faces! It is pretty funny to us now, although we may tire of saying hello to so many people soon!
We went out for dinner tonight, found a lady cooking out the front of her house and we basically acted out eating with our hands (massive language barrier here) and in reply were given a delicious dish of noodles, pork, liver, cabbage, cucumbers and all sorts of other stuff in a tasty sauce. Honestly, all that we actually communicated to this lady was "Can we have some food". I'm not sure how I would take that in one of our restaurants and ask the waiter for "some food". Anyway the people here seemed to enjoy the situation! Some kids came in and ate near us with stuff on skewers and a red sauce. We pointed at this to try some and was given a massive bowl of the stuff. We determined that we were eating pork meat, pork artery and liver. The artery was quite gross in texture (as you can imagine pigs arteries are pretty fatty) but it all tasted pretty good (Although I ended up eating most of the artery haha). To any Blechyndens reading this, they take "not wasting their food" to a whole new level!
Also we ate next to a shop where a lad just sold big chunks of ice, cutting it with a hand saw! Things are certainly different here…
So it has been an incredible day. I have travelled a bit now but have never experienced something like today. I am sure there are plenty of border crossings like this in the world if you know where to find them, but to find one on the border of Thailand, such a massive travellers destination and one that seems totally designed for tourists is unreal.
We now have 5 days here of which to explore beaches basically, beaches that apparently no one will be on. At all. Let's hope we don't get stung by something!
On our last day here I will post on what some of the beaches and life has been like here, but so far it's been an amazing experience and I'm sure this southern region has a few more surprises up its sleeve!
Post edit:
During the writing of this blog post, after I showered, I have discovered that Sheree's Wax earplugs have been on my body somewhere the entire day, I just found them as a clump next to me covered in my hair. Yes after this crazy ordeal of a day they were lodged onto my body the entire time! I think they were in my armpit. Seriously what the…
Matt out.