Salaam!!
Below is about our time in Kashan and Isfahan.
Since then we have been to Shiraz, experienced nowruz – the Persian new year, been desert camping and are now in ancient Yazd!! We will probably write about these once we are home as we only have a few days left in Iran to enjoy!
Kashan
We had not planned on going to Kashan, although I had read it had a lot of great historical sites (where doesn't in Iran!) and nice gardens. Somehow we ended up staying a night here as part of our northern Iran tour on our way to Isfahan… completely not planned but often some of the best things aren't!! In the end we wished we could have stayed longer.
The city of Kashan is small, has a lovely old town and more than enough historical buildings, mosques, bathes, traditional restaurants and of course the beautiful Fin Garden. Matt's description to follow; This garden dates back around 500 years (wow). The word that we use for paradise literally comes from the Persian word Paridaiza which means "Garden surrounded by walls". I think the photos mostly speak for themselves. What you do not get from the photos is the context of where these gardens sit. Below the mountains, the cool water, massive old trees and orderly nature of the gardens is in stark contrast to what is outside in the city. Even on the cool day we were there, the temperature was at least 5 degrees cooler. Can only imagine what it's like to walk in here on a hot summers day (Kashan gets up to 50 degrees). It must be Paradise!
Because we didn't have a lot of time we had a guide and a driver show us some sites and then transfer us to Isfahan. In true Iranian fashion what was supposed to be a 3-4 hour tour (leave at lunch time for Isfahan) turned into 6 hours, even after Matt had to finally butt in and say "when are we going to Isfahan!?" It started to feel like we weren't even going to go! We are learning this is just how things seem to happen here. 
It was really nice for me to spend some time with our guide as another female of a similar age, after being with 3 men for the last few days (two of which just talked crap the whole time, one of which was Matt haha).
We also spoke to locals whenever we had a chance. The perspective of one local on the head scarf was that it's written in the Qur'an women should wear a scarf, so she would still chose to (if it was a choice) however she did not agree with the black that many women wear (as this is what some of the mullahs say they must do, and she said she does not trust every thing they say, rather she reads the Qur'an herself and makes an informed decision). There was also the thought that it might be better if foreign tourists did not have to wear a scarf as it may prevent some people from visiting the country (being told you have to dress and act in certain ways – no shaking hands with men, no dancing and singing in public, amongst other things) has not been easy. Matt accidentally shook a woman's hand in Shiraz and it felt totally taboo!!! Like he had definitely crossed a line. He is still embarrassed about it (Matt edit – and a little bit excited too 😂). As much as I respect other cultures and rules while I am overseas, I am so grateful to live in Australia with all the freedom and equal opportunities we are so lucky to have! The younger people here are pushing the boundaries more as they are influenced by social media and availability of information from the internet, and it will be interesting to see where this leads. 
On an interesting note, we stopped for tea on the drive from Kashan down to Isfahan, and the landscape was reminiscent of the Pilbara! (the foothills not the massive mountains in the distance). This was accompanied by epic blaring Iranian music, tea and of course sugar cubes. Instead of putting their sugar in the tea Iranians put the cubes in their mouth and drink their tea this way! This also means there are never any tea spoons, which can make it difficult to dissolve sugar in your tea the way we do it 😂
Isfahan
It is difficult to put into words what a beautiful city Isfahan is. Especially being so tired from travelling so fast! However, Matt did a great job at capturing some of the grand architecture, but there is nothing like the experience of being there, as has been the case in all of Iran so far!
It was good to be able to slow down (sort of – we still seemed to pack in a lot) and spend 4 nights here, including one in a beautiful traditional house, after cancelling a tour we had planned up into the Zagros mountains. It would have been interesting to see a nomadic village and more epic mountain scenery, but after what we experienced in the north of Iran, we really wanted to explore the culture and cities. It was a good decision and we were relieved to not be going.
View from our hotel room;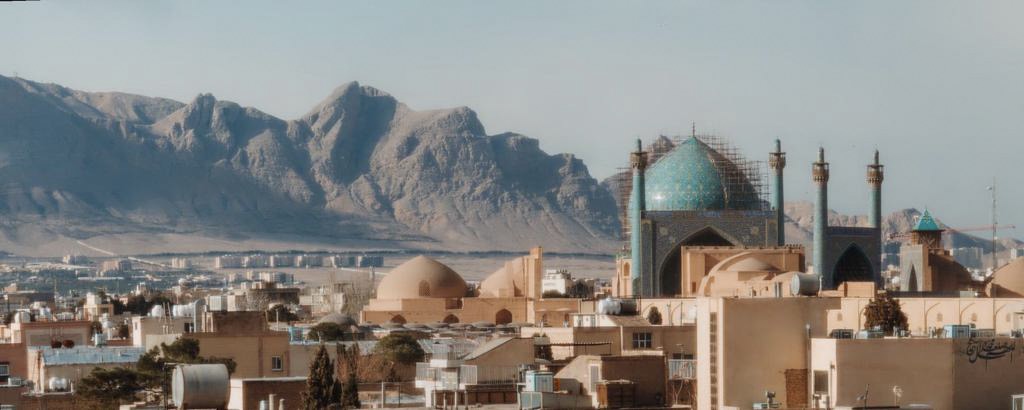 Isfahan was a mix of ups and downs, from the beautiful architecture and Naqsh-e Jahan square, friendly Iranians who wanted to say hello, to those who spoke perfect English and wanted to sell you hand made silk carpets for more than twice the amount you would pay if you went to other stores. Unfortunately we paid a bit too much (But not as much as it could have been), and we were upset when we found out, but the great thing about Iran is whatever you buy it is still really nice even if you paid too much! Also travelling is full of lessons and sometimes you have to learn the hard way. Now we are much better at saying no, even though the Iranians are soooo friendly, even when trying to sell you things!! 
Below are some of Matt's amazing photos of Sheikh Lotfollah Mosque. Matt's description to follow; Built from 1603 to 1619, the "most beautiful mosque in the world", really is a masterpiece of Safavid era architecture. Visiting this mosque yesterday was an experience of mixed emotions. While visiting we were (of course!) approached by the typically friendly Iranians milling around, usually for some chit chat or somehow talk us in to their rug shop. But of course, when they learnt we were Australian the talk went to the tragic NZ shootings and how shocked they were by this violence. One young Iranian didn't even know that there were Muslims in Australia and could not understand why someone would want to kill them? This man was an architectural engineer who is, for obvious reasons, in love with this mosque and wanted to explain the miraculous architecture to us. He did not own a phone, just a cracked tablet, was clearly lacking in money but he did not want payment. It was a dark day, but the day was in contrast to the sheer beauty of this Mosque and the muslims who live here. It is a must visit on a trip here!
We experienced another example of Iranian miscommunication/misinformation/iranianism  when Matt asked if he could see a football game in Isfahan (no women allowed). We moved our schedule a bit to ensure we were in the city on Saturday night, we were picked up by our driver Saman, drove an hour to the stadium, to find an empty car park. Yep no football game, it was not until the next day! Saman asked Matt "you sure?"…. hahahaha how would we know!!! Anyway we still had a nice evening with Saman and his daughter who is learning English and was a very lovely girl. We visited an old bridge out in the sticks and a mountain overlooking the city, took some selfies and headed back to our hotel!
A couple of very interesting and different places to visit in Isfahan include Vank Cathedral and Museum, and the Music museum nearby. 'The cathedral was established in 1606, dedicated to the hundreds of thousands of Armenian deportees that were resettled by Shah Abbas I during the Ottoman War of 1603-1618' (Wikipedia).
The museum next door has a collection of old things that will blow your mind – text written on a strand of paper the size of a hair (need microscope to see it), smallest bible in the world, very very old books and bibles showing Asian christians (a reminder of the part of the world Christianity came from, something we tend to overlook), coins from 50-150 BC and an exhibit on the Armenian holocaust that occurred in 1915.
I would also recommend the Music museum as well for anyone interested in the traditional and current musical instruments of Iran and around the world (yes they even had a didgeridoo). Once you pay for entry, if you like a guide will take you through the museum and will explain and demonstrate what the instruments are and what some sound like, as well as how they are made. Interesting.
Below is the view from the fire temple mountain we also visited and Matt and Saman having tea out of the back of the taxi (this happened a lot);
Food
Here is a section dedicated to some of the food we had in Kashan and Isfahan for anyone interested!
In Kashan we ate at 2 different traditional houses. Both were very good and we love this way of dining on the raised seating (see photos below). For breakfast at our hotel we had baked potatoes with a soft feta, butter and of course Iranian tea. Mmm no matter where you go potatoes are always delicious.
Traditional house 1 – We had a version of Dizi (beans and slow cooked meat with saffron rice), and lentil soup. They also have a fizzy yogurt and mint drink called doogh which is interesting and the home made stuff is tasty.
Traditional house 2 – I had meatball stew which had unusual flavours, the sauce had walnuts but was quite vinegary. Matt had camel stew which he loved! Photo of the camel stew in the below. We bought a Persian cook book and can't wait to try some of the recipes ourselves.
In Isfahan our favourite meals included Biryani (the most delicious lamb mince on Irani bread), chops (actually anything with lamb was amazing, fresh from the nomadic herds in the mountains), fesenjān (chicken in walnut and pomegranate sauce) amongst others!!
Hope you enjoyed the read!