Hello! Finally we have had some time to write about our travels so far. This blog post won't be too long and I don't think any of them will be. During our last trip we had a laptop to write each blog post on so I (Matt) got some pretty serious word counts going on some posts!! Technology has improved and we can pretty much do everything from our iPhones now (we could have before but it was harder). 
I am writing this cruising up the Qazvin-Rasht Motorway in northern Iran in the back of an Iranian assembled Peugeot (and finishing it in Beautiful Isfahan). But that will follow in another post. This one will be about our visit to Turkey, spending most of our time in Istanbul, with a little side jaunt to Cappadocia where I'm fairly sure you all know what happened there!!
Istanbul
What a fascinating city Istanbul is. To fully grasp the complexity of the history, be able to blend in with the high octane cosmopolitan Turks and find your way around without a map would surely take years!! Hey Caitlin Bell?? 
Historyish part feel free to skip!
Prior to our trip I had stumbled across a book by Australia's own Richard Fiddler entitled "Ghost Empire", which told the story of the Eastern Roman Empire, or more commonly known as the Byzantine Empire though this name was applied after the Empire fell. The Eastern Roman Empire survived for nearly a thousand years, yet it is a history that not too many of us are familiar with! I have since been reading a book that chronicles the history of the region of the silk roads, and my mind has been consistently blown. The history that we grow up with is so Western European centric that we have missed a lot of what was going on next door, and what actually massively ended up contributing to the ultimate rise of modern Europe. While the west were in the "Dark Ages", the East was thriving and at one stage, the Arabic Empire was easily the greatest empire the world had ever seen at that time. The world looked east, and many ambitious westerners would move east ultimately in search of a better life. Successful city states that we know so well – think Genoa, Venice etc, made their riches trading with the East. And what was in the centre of all of this? Which city held strong for a thousand years and provided the link between the west and the east? Constantinople or Istanbul today. 
To visit the city now, you can hardly walk a street or turn a corner without stumbling across the signs of the former golden Roman era. Cisterns, Roman walls, and the occasional aqueduct are all over the city. The basicila cistern is the most famous, but in fact there are 33 in total that have been discovered, with perhaps more to be found. Being low season, Sheree and I were able to have one all to ourselves for a good 10-15 minutes! It was pretty amazing. Roman walls and ruins are everywhere, including the Tower of Constantine that still stands near the Grand Bazaar (which was built after the Roman era, during the Ottoman period). What makes Istanbul so unique though compared to other old Roman cities, is that since the 1400's it has been under Islamic rule (though today Turkey is a secular country). The architecture here is an impressive blend of Byzantine and Islamic architecture resulting in grand mosques, modeled after the Hagia Sofia, that was astonishingly built in 537 AD!This thing is enormous, stunning and it is hard to accept that it was built so long ago. It was so beautiful to the conquering Ottomans that Sultan Mehmed II did not destroy it and modelled new mosques on the design.
What we did.
Ok so this post is getting long and I promised it wouldn't! Typical. We started our first full day in Istanbul by waking before sunrise to the sound of the invitation to prayer. It was pretty awesome, and also classic Istanbul in that we were overlooking a Christian Armenian church from our hotel. Istanbul has so many cultures and religions all living together. It's beautiful. Sunrise in front of the blue mosque and Hagia Sophia was a morning I'll remember forever. The light was fantastic for photography as you can see from the photos! We spent the remainder of our time mixing in with the cosmopolitan and bustling city, a far cry from dusty Kal! I also love and also when I last came here as a 21 year old, the humour of the Turks. Photobombing is popular so much so that even I got in on the action!
We loved our stay here. Sheree booked us into a great little boutique hotel where the host, Adam, was so gracious and provided great assistance to us. Plus the Turkish breakfast was amazing to sit down at every morning with our Turkish tea and then coffee to get us ready to explore. On our last night, after our trip to Cappadocia we stayed in Galata that we read was a little more European. It really did feel like we were further west and we were glad that we did this. We wandered around the next morning and tried to find a sweets shop on recommendation from my brothers partner who lived in Istanbul for a couple of years (lucky Caitlin!) where we tried some delectable little sweets, Sheree loved them, I thought they were good too but I couldn't eat much as they were so bloody rich! The food overall here was very good as you would expect. 
One thing I love about Istanbul, and it's probably the same reason why I love many big Asian cities is that you can get local street food and then the next shop will be a western cafe where you can get your fix of western culture. We tried as much Turkish food as we could, in fact, I don't think we have had a western meal since we left Australia! On our last night in Istanbul, after an exhaustingly long day from Cappadocia Sheree spotted a place that hand made pides and then baked them in a wood fired oven!! They were absolutely incredible.
Cappadocia (by Sheree)

It may have been a long way to go for one night, but what a night/morning it was!! Our trip to and from Cappadocia included a 30 minute train, 1 1/2 hour bus, 1 hour flight and then another 1 hour transfer to the little village we stayed at, Goreme. Add in some extra time waiting around and it was about the equivalent of a trip from Perth to Kal for 1 night…
Despite this I wouldn't change going there for anything, as it was one of the most memorable experiences of our lives!!
The little town of Goreme, local population 2000, Chinese tourists 3000 (and that's just in shoulder season) blew us away as we arrived at around sunset. After being shown our room, a cave in a former family home which was a Byzantine Church (wow) and given some apple tea (yum – tasted a bit like apple juice but as a tea) we went up to the rooftop terrace for views over the town. What an incredibly beautiful place, I think the photos speak for themselves. We had never seen anything like it in all our travels!!!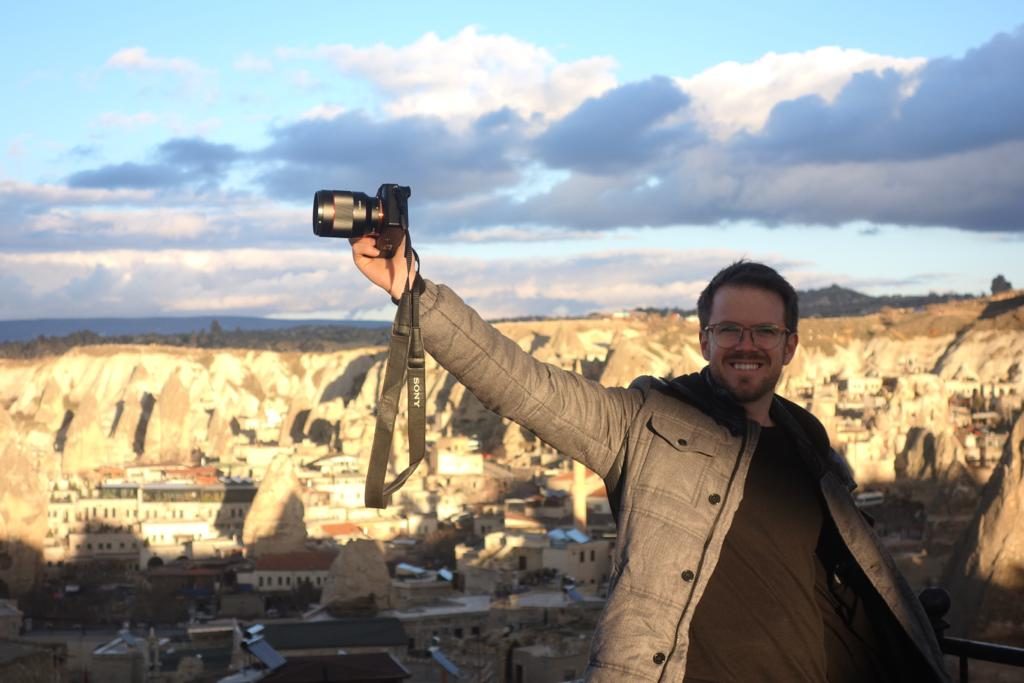 After a lovely evening involving a delicious meal and sitting on our balcony enjoying the view of the town, we hit up our cosy cave (it was so warm I had to go out on our balcony into -3 degrees during the night to cool down haha) for an early start to jump in a hot air balloon for sunrise. This is something I have wanted to do for a while, and we were disappointed for not doing a hot air balloon ride over the Bagan temples in Myanmar, so I was hoping this would make up for it. It more than made up for it because little did I know Matt was going to propose to me! Seriously had no idea! After a glorious sunrise we were floating over Cappadocia, enjoying the serenity and amazing views, Matt asked someone to film us and I realised something was up! When the next thing Matt said was "I know this is cliche but…" and the penny dropped, I think I went into a little bit of shock (in a good way). I got really emotional and definitely shed a few tears, as well as getting a yes (of course) and a "I thought we would never get married" out (haha). I love that even though Matt thought it was a bit cliche he did it anyway (of course I didn't care because I thought it was just so beautiful). What a magical moment we would remember forever!!
Thank you for reading, we will post about Iran soon. There is just soooo much to see here that we aren't sure we will find enough time to post as much as we wanted but we will at least get some words and extra photos up than what makes it to Instagram.
Bye!