Well, we are back home! But, in pulling out all the stops just to get through our final month travelling (if we were travelling longer I think we would have just gone to ground for a month to do some serious recovery! We were nacked) we let a few things go by the wayside. Photography for me and for both of us, the blog, which, lets be honest, we weren't that good on keeping up to date in recent months anyway! (haha it still hits me that I can describe our trip in terms like "recent months" – awesome, what a long time we were away). So, enough parentheses and preamble and I shall get straight into recounting our adventures through the US of A!
*Authors note – this was written pre-Trump era so some names, places and North Korea may not exist at present day.
* Also this is our longest post yet as we fit in a lot in our 5 weeks here! So just to let you know you might need a cuppa.
United States of America
So, to begin with in the USA, we arrived exhausted from our circum-navigation of Ireland but feeling cheery and fairly positive as we had had such a great time on the Emerald Isle. But we were now in the hustle and bustle of the USA, and in one of the most populated states mind you. It was a little shock to the system, however we were fortunate in that Ben's housemate Justin had offered to vacate his room for us over a few days so we had the chance to just bunk in and rest up for a few days. This was much needed as we required our energy for what ended up being one of the most incredible camping experience, trip experience and well, life experience.
Over the past few months, my brother Ben had been organising a camping trip for us 4 throughout Northern California. From the giant Redwoods near the border with Oregon, down to the fabled Yosemite National Park. Wow, how lucky were we.
First thing first was loading the big chevy-powered ford. This thing was a beast! It would get up to 60 MPH in next to nothing. The power was astonishing for such a mammoth car. Lucky we got a big car though because it still required a bit of tetris-skill to pack the thing! Once packed it was really a full day of driving to get up to the Jed Smith National Park in Northern California, home of the biggest living things in the world – The Giant Redwoods!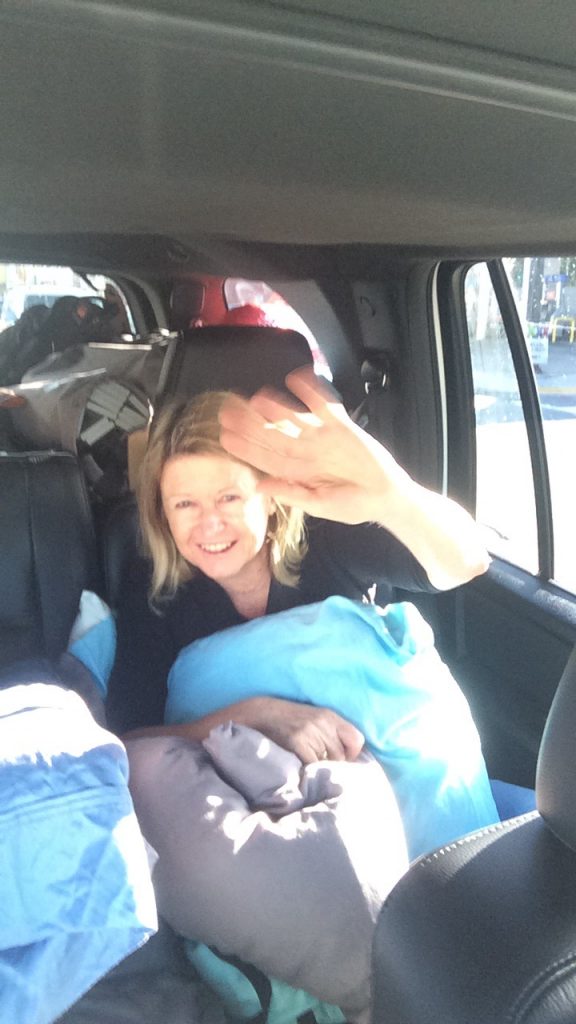 Since I was a little kid and watched climbers climb these huge trees on the doco series, BBC Planet Earth, I have always wanted to come here. And coming with my family was pretty special. This place is fairly popular so we weren't able to camp in this national park, however, this probably ended up a good thing as we camped nearby at Panther Flats, which were secluded private campgrounds with great facilities – they actually reminded us a lot of Charlies Corner I think it is called in Dwellingup! So that was pretty nice for Sheree and me as well. We also swam at one of the rivers nearby – I was shocked at the colour of the water here! It reminded me of croatia or somewhere in terms of colour and clarity.
What struck us about this campsite in particular was the silence! I mean not a noise. At first I thought "Yeh thats the bush for ya" but after moving on from here and hearing normal "bush" noises in other campsites I realised how actual crazy-quiet it was back there at Panther Flats! So anyway we were off to a good start.
The next day we did a 3 mile hike into some pretty little falls in the heart of the Redwoods. Mum thought we were nearly finished when she heard us saying "We are nearly there" when we were actually referring the the halfway point (the falls)! But, she did so well considering she was several weeks out of having her knees done, with very little real world exercise under her belt for a long time. So good on ya mum!
Kangaroo Lake – wow
Kangaroo lake is one of the most awesome places I have been to let alone camped in. To me it seemed like this is what Californian forest mixed with the moon and mars would look like. Sparse pines, pockmarked with pools and granite rocks and mountains as far as you can see. It's an odd comparison I know but it is just the feel I got here. It was here that for the first time I gave photographing the stars a red hot crack. And the results were awesome. This has led me to delve right into Astrophotography. To have a hobby that I already enjoy, that already links me with nature is sweet enough but using it to link with the galaxy? Yeh, so I get pretty excited by that.
While here we did a breathtaking hike to the top of the cliff overlooking the Lake (Again well done mum, although I helped with a little pushing this time) where we watched sunset which was really special, we swam in the lake and really just enjoyed our short time here. By the way, I think there may have been 4 other camper groups? What struck me about this place was that here we were in California, with its massive population, but it felt like we would have been in the remote Kimberleys of WA. It was unreal and was a real highlight of my entire trip.
From here we had a massive day of driving to get down to Yosemite! The highlight was lunch with a great view of Mt Shasta, an extinct volcano thats cap was covered in snow which was pretty cool.
Yosemite
I will remember taking the turn into Tunnel View in Yosemite forever. At this point I have seen some incredible scenery in the world, seriously. But our collective jaws dropped when we saw Tunnel View. It has to be close to the most dramatic shit I have ever seen when it comes to geological formations. To anyone curious how this formed, it was a glacier a long time ago wrenched the canyon out. The force behind such erosion is just unimaginable! It really isn't possible to imagine it.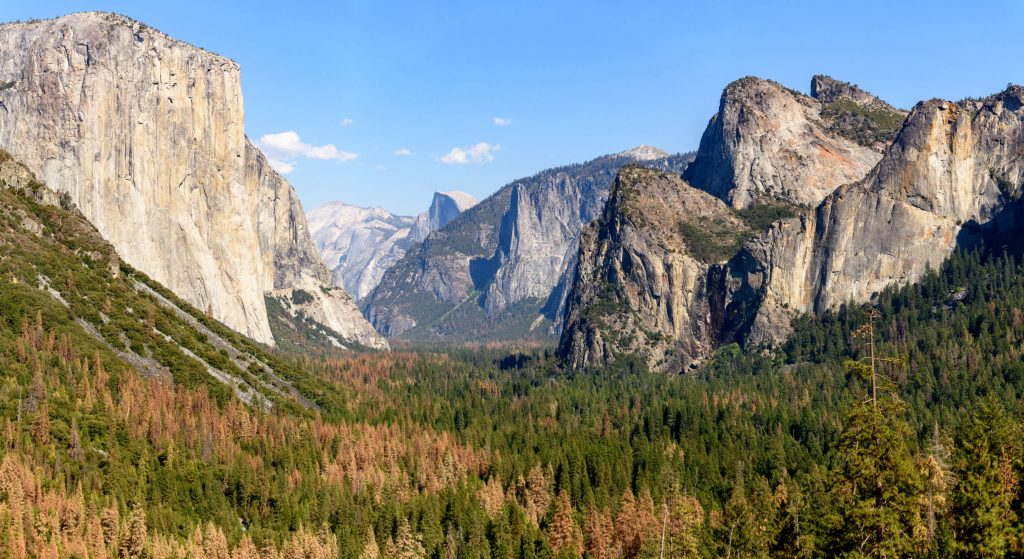 We camped just out of the valley floor which was a masterstroke by Ben. Our campsite was right next to a beautiful alpine river, was massive and very quiet. From what we could see on the valley floor, it was super crowded and I bet not all that quiet at night. We were lucky that each afternoon and morning we were "crowd-free" which really helped to soak in the vibes of the place. I feel that if we were staying on the valley floor then we would never really feel like we were ever away from people! And I dont know about you but I go camping to get away from people! Haha.
We visited Glacier Point, Sentinel Dome, and hiked Vernal Falls (of which we got up really early and beat the crowds.) I was so glad that we did get up early for the hike because on the way back it was so crowded that it really was less of an experience!
Honourable mentions to my brother Ben who supplied us with the most delicious and fresh meals cooked for us in situ every night. How he does it I don't know. He did it in the middle of the Kimberley as well! It is truly a talent and we were very grateful for it. Made every day 🙂
And mum, who was still recovering from getting her knees done did a massive effort to come along this whirlwind tour, and sleep in a tent with ben every night. Mum had so much to overcome each day when we would go out on hikes and she completed every one, culminating in a very tough climb that had everyone puffing to get to the top on our final day – Vernal falls.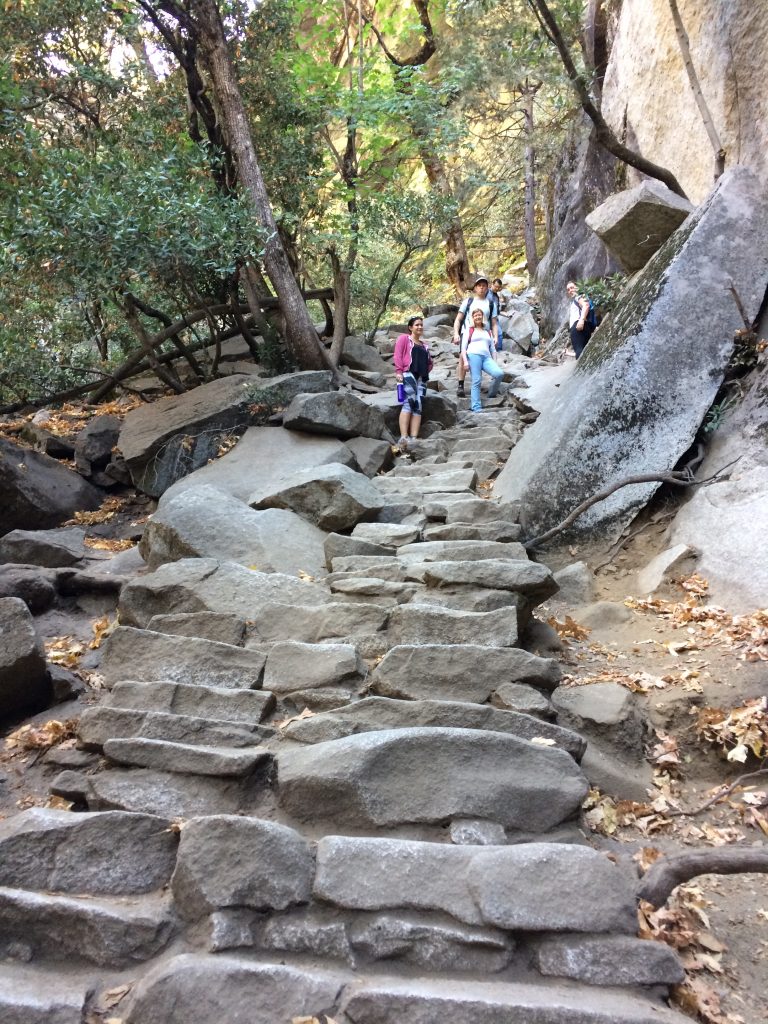 This was the view and it was certainly worth it for her and I was so proud 🙂
So overall, as I said earlier, this week of camping will go down as one of my top life experiences. My family, all together seeing the best of what California has to offer – it was incredible and I will remember it forever. I think this photo sums up how I feel, made by Debbie with a stick from the fire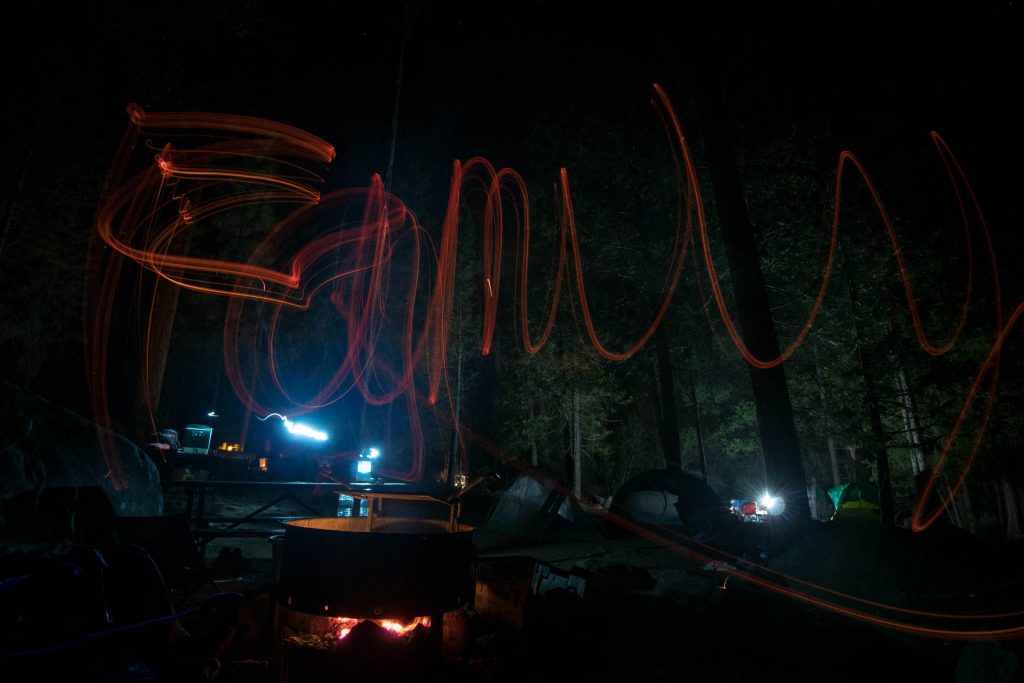 And this was our second last day – probably time to end it and head back to civilisation haha!
Memphis, Tennessee
So following our camping trip, next on the schedule was a Southern American style wedding of my mate Reynalds and his now wife – Amelia. We were really excited for this as we heard that Southern weddings are great fun, the people are lovely plus we got to see dozens of my friends who had all made the journey over to the states for it. I missed out on the Bucks do as we were camping and making the most of my brothers time off, but from all reports it was pretty crazy and sounded like a permanent hangover. So honestly I wasn't too bummed that I couldn't make it.
The wedding was great, I loved Memphis, the people, the pub scene and of course the food haha! I think I started putting weight back on in a serious way here. I think the nicest people I met weren't even the ones at the wedding though, it was the African American Uber drivers! They were all awesome people! Some of the friendliest people I have ever met.
Vegas – again
So after the wedding, a group of us headed to a place that both Sheree and I had swore we would never go back to again. Las Vegas. Last time we were here, it was New Years Eve 2014 and we both spent over $2000 each. This time I could not afford even close to that! But, as luck would have it I made about $200 on the first night on my favourite – Roulette. I have had some massive wins playing 50/50 odd bets on Roulette. So, basically that meant that the entire first day and night was paid for, which made me feel pretty good for the rest of the time there! We spent a lot of time in Casinos, and then went to the infamous Heart Attack Grill – Where you can order a burger with 8 patties and 20 strips of Bacon. Surprisingly they had a Vegan menu, unsurprisingly it only consisted of cigarettes! Additionally, they weigh you on a massive scale, and if you clock in over 350 pounds then you eat for free. While there one guy did clock in over 350 pounds. He was also missing half his teeth and I doubt whether he is still alive today. Probably the highlight of going here was seeing how drunk James K was which was weird because we had all drunk the same amount, or so we thought.
So Vegas was, well, Vegas. It was no where near as crazy as NYE but it was still kind of fun. It's interesting to me with what I find "fun" these days. 5-8 years ago it would have been a place like Vegas for sure. But after the places I have now seen and been to, well it just confirms to me that there is so much more to life than spending my money in a place like Las Vegas. Vegas has been engineered and then flogged in media to make people from all over the world want to go there and lose their money. I get way more of a kick travelling through Kyrgyzstan meeting people who have never even met Australians and finding out about their way of life, or hearing a Burmese waitress's view on money that "You don't need much" and "people from your country have too much money" – I mean wow. Polar opposite to most people's view in this country. So I guess I've changed quite a bit, I already had before the trip but this has just reinforced it for me.
On that same line, after Vegas, Mum invited me to help out at the Curry Kitchen in the run down Tenderloin District of San Francisco. I ended coming back here 3 times, twice with Sheree where I was able to help people out serving meals for the poor elderly. Things like this, seeing people get help who need it, bring me so much more satisfaction than spending my money on drinking, and even sightseeing and tours. I love travel. But to mix travel with helping people, or travelling to really out there places it was really gave me a buzz on this trip. Anyway, perhaps we can write a blog post on our favourite things and thing we learnt from the trip!
Sheree's surprise
So, on the morning of our departure from vegas, Sheree had organised a last minute helicopter tour of the Grand Canyon. Very typically, she got upgraded to a valley floor tour, so there she was, watching sunrise over the Nevada Desert from a chopper, followed by a champagne breakfast on the Grand Canyon valley floor. Half her luck hey! Meanwhile I slept in and grabbed her shoes that were at our friends hotel room. Haha.
Few photos of Sheree's Grand Canyon Helicopter Tour:
The following is written by Sheree about her massive surprise!! It was really hard to keep this from her for months, and also some tense times when Sheree had wanted at one stage to go to Mexico on the dates Rochelle was due to arrive! But we got there in the end, with me taking her to find some lunch at Rochelle's Downtown hotel – something we would never do – that is, having lunch in a hotel restaurant (too expensive). Anyway, Sheree went along with it while I scrambled to have my phone's camera ready.
Sheree – Go!
Well, what a complete surprise it was for me to walk into a hotel with Matt, having only two weeks of our trip left, and to hear my Mum's voice! I thought we were just going somewhere to get some lunch!! My brain took a few moments to process the surprise, shock and happiness that she was really here in San Fransisco with us. I couldn't believe everyone else knew and had been planning this for months! I was really happy and excited to see her after being away for so long, and our last two weeks overseas went from no plans to touring Mum around San Fransisco and a bit of California.
First on the agenda was getting the lay of the land around San Fransisco, and what better way to see all the major sites and learn a bit about the place than going on a City Sightseeing Tour. Considering the limited time we had we used this tour to get around to the Golden Gate Bridge, and after a lengthy wait finally got to catch the bus over the bridge to a pretty little place called Sausalito, where we had just enough time to go and get an ice cream before being whisked back over the bridge to the other side. That evening we took Mum to her first American diner and ordered your standard diner meals – a must do when your in the states!
Next stop was San Jose to visit the Shark Tank – home of the Sharks – to see some fast paced and exciting Ice Hockey. Probably my favourite sport to go and watch live in the States. It was very entertaining and the basic rules are easy to understand which always makes for a good experience.
The next few days were then about hiring a car and heading down the Californian coast via the Redwoods in Big Basin National Park to Santa Cruz, and then onto Monterey and the Big Sur. After a short walk in the Redwoods, a picnic lunch and a motion sickness tablet for Mum due to the windy roads we arrived in Santa Cruz in time for Matt and I to go down to the beach for sunset. The surf and wind and fog made for a pretty dramatic coastline – hard to believe people surf some of these waves I think they are crazy!!
Next stop was Monterey for a few nights, from where we had a big day out driving down Highway 1 and the stunning Big Sur coastline. A bit of weather was forecast and we did end up driving a lot of it in an eerie fog which gave the place a different type of drama than just plain sunshine. We were also fortunate enough however to get some patches of sunshine from which we could view the rugged coastline and mountains. It was really great to get out and show Mum some of California, but I think after so much moving around we were all glad to get back to Burlingame and stay in the same place for more than a couple of nights! Stopping also gave Mum a chance to recover from the cold she had picked up and had been suffering from since she arrived.

During the next week we managed to do some relaxing, especially Mum who spent some time browsing the shops in downtown Burlingame and making the most of being in walking distance to Starbucks. We all enjoyed a night out at The Temper Trap concert, as well as a day out in the beautiful Napa Valley wine region. Something I learnt from doing the wine tastings here is how lucky we are in WA to be able to visit wineries and get free wine tastings! Apparently in most places you pay for it!
The last stop before heading back to Aus was a few nights back in San Fransisco, where we had a entertaining bus ride from the train station to our hotel through San Fran's big and bustling Chinatown district. With a few days left we met up with Ben and he organised to take us to a 49ers game, including tailgating (parking near the stadium a couple of hours before the game and having a BBQ and a few drinks with all the hardcore fans). We had a really fun day out and I'm really glad we went as the experience was very different to the college football game we had been to a few weeks ago.
We were all pretty worn out at this stage but Mum and I made one last effort to go and visit the popular attraction of Alcatraz Island. Unfortunately it was more of an effort than it should have been, as they were delayed by hours and so waiting times were even worse than normal. We weren't even sure if we were going to be able to go at one stage. With some patience we finally made it and it was a very interesting experience. Worth doing if your in San Fran and have the time.
When our last day arrived, I couldn't believe it was the end of our overseas adventure. It seemed so surreal that we were actually getting on a Qantas plane, crossing into the southern hemisphere for the first time in 9 months, and landing back in Australia. Seeing our plane at the airport made me tear up – I had missed Australia, my family, my friends (there really is nowhere quite like home), but I was also sad that the adventure had come to an end. Part of me wanted to stay, but deep down I knew I was doing the right thing in coming home. I felt like I was completely saturated by travel, and as a consequence did not feel the excitement and enthusiasm of experiencing a new place that you do when you are fresh out of reality/home. There are still so many places I would love to travel, but I want to go with fresh eyes and really get the most out of it as possible – travelling is such an amazing thing to do and I believe that is what it deserves.
I do feel that we eased into coming back by spending a couple of nights in Sydney, catching up with friends and still doing all the things you do in a big city you have never been to before. In a way it felt like we were still travelling, except that no one payed attention to your 'accent' (and they could understand you, yay! no more repeating), the skies were blue and free of smog, the money made sense, no tipping, no waiting for the bill, the pubs were full of atmosphere and high vis clad workers and you could actually go out for a meal and get something green and healthy (I had definitely missed this in the states!). Yep, I think we live in a pretty damn good country!