I have seen more new and interesting things in Myanmar in the last 2 1/2 weeks than anywhere else, and I love how you just don't know what you are going to see next!!
For example here are a few snaps from a typical day on the roads;
I found the people of Myanmar interesting right from the start. Many Myanmar men wear a sarong called a longyi (or paso). And the women dress in long skirts (or htamein) and shirts, often matching, and ride sitting sideways on the back of scooters looking very poised and ladylike (I tried and it takes some impressive balance, plus they are also usually carrying something – babies, food, building materials etc..). They also wear a yellow paste on their face making them look exotic, which we found out later is called thanaka and made from rubbing a special sort of bark on a stone with a small amount of water each day. The Burmese women and children use it both as sun block and also as a type of beauty product/make up, and are very proud of this tradition. Both men and women often look very fashionable (but in a completely different way to what we would consider fashionable in the west – personally I really like it). They look like they are dressed up to go out somewhere fancy, but then you see them sitting on stools next to a food cart on the side of a street eating, drinking tea and socialising – such a contrast but this is just part of their culture.
Getting thanaka put on my face;
I think the best thing about the Burmese however is their kindness and friendliness, from letting us keep our bags for two days in the hotel for free while we went to paradise beach, and offering us a shower when we returned (even though we weren't staying there anymore), letting us sleep in a dorm room when we got to Yangon at 5am (way before we could check into our room), and making us take away breakfast when we had to leave early. And this was just in the hotels – the smiles, waves and "minga lar bar's" (hello) from strangers made you feel so warm and fuzzy inside… I wish we were more like this in our society!
Now a bit about Myanmar's 3 major cities: Yangon, Mandalay & Naypyidaw
In the words of our friendly taxi driver/tour guide in Mandalay "Yangon – first capital, Mandalay – second capital, Naypyidaw – Royal city or "city of kings"". And he didn't forget to mention that the people in Mandalay were the most friendly and kind (maybe a little city rivalry? A rather nice thing to be competing for).
Yangon
Coming from the sleepy Dawei peninsula on a 14 hour bus overnight, and getting off at the big, busy bus station of Yangon at 4am was a shock to the system. Also I feel it's worth mentioning that they played the same Burmese music on repeat, loudly, for the first few hours, before putting on some classic Burmese films, loudly, and then ended the bus ride with some more loud music (it just about drove me mad – thank goodness for ear phones). Once in Yangon it was then another hour of weaving in and out of early morning traffic in a taxi to get to our hotel in the city. In Myanmar it is only recommended to drive in lanes, and you can use your phone no worries, ride on the back of any vehicle, and no one even seems to know what a seatbelt is for (on one of the buses a girl actually thought it was a button to recline the seat) – you just have to beep your horn to let people know you are coming and hope for the best. The taxi driver asked us what the differences between Myanmar and home were and we didn't know where to start!.
Yangon was just so goddam hectic, and we stayed in the centre where to get anywhere you had to fight your way past people on the narrow footpaths between the lines of stalls. You could easily get overwhelmed during the day when this was combined with the heat, the dirt, the smells (one minute frying food the next rotting sewerage) and the constant noise, plus lack of sleep – as happened to me on our second day. But as the sun goes down the city seems to transform, it becomes slightly cooler and more pleasant, and out come even more street stalls, selling all kinds of strange and (mostly) delicious looking food. On 19th street they do a BBQ where you choose what you would like, put it in a basket and they cook it up for you. Fantastic way to eat!! Oh and you can also get a whole grilled fish in a delicious sauce for only $4!!!
We also learnt that the Burmese have a love for the theatre when we decided to escape the heat and watch a movie. Everyone stood while the national anthem played before it started. The movie we saw was in English with no subtitles, and to our amusement most people talked most of the way through. We figure they were either socialising or trying to work out what was going on, as I don't think most of them could speak much if any English – yet every seat was full!! They also have newer cinemas which are just like ours, except that you pay $3.50 for a ticket and $1 for popcorn!
Our second time around in Yangon we knew what to expect, but it didn't stop me feeling like our taxi driver was willing to sacrifice our lives to get us to our destination a few minutes quicker. This time around we avoided the most crowded parts of the city and the heat of the day by staying indoors. We also managed to visit the most culturally significant pagoda in Myanmar, the Shwedagon, which stands at 100 feet and is covered in gold. Most of the tourists (to my surprise) were not westerners but Burmese who had come from all around the country to visit this holy place. You could really feel that this was important for the Burmese.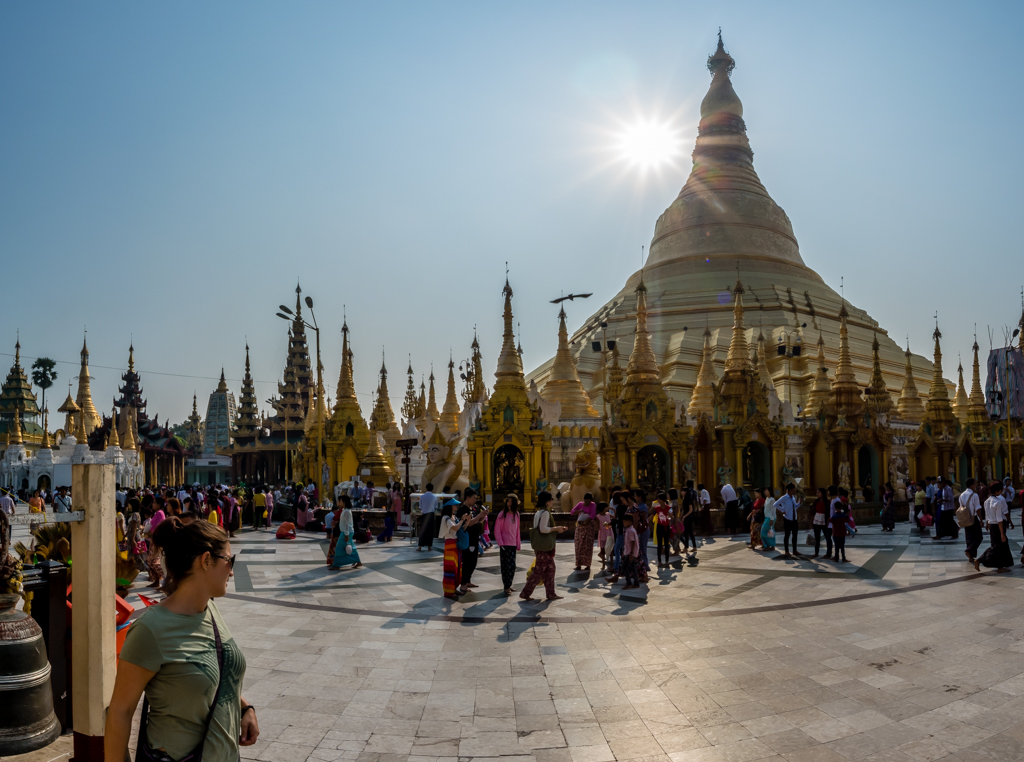 Mandalay
It was surprising how different Mandalay seemed to Yangon. Again it is a big city, lots of traffic and was very dusty. The streets in Central Mandalay were wide and blocks well planned out (at one stage it was the capital), and there is a lot of Chinese influence, as well as Indian and other cultures. The result is a mishmash of different shops, people and some really good food. Highlights of our time in Mandalay include eating Shan noodles (I had them 2 nights in a row) for only 60c and Indian chapati (kindly recommend by our taxi driver). Matt also disappeared for 24 hours while we were in Mandalay, something about a train, mountains and a big bridge, but that's another post.
While quietly sitting and watching the Burmese at the Sandamuni Pagoda, another very special place, we were struck by how you could feel the positive energy of the people whose religion is centred around acceptance, gratefulness and kindness. Myanmar has really made me think about what is important in life, and I think we could certainly learn a lot from their values.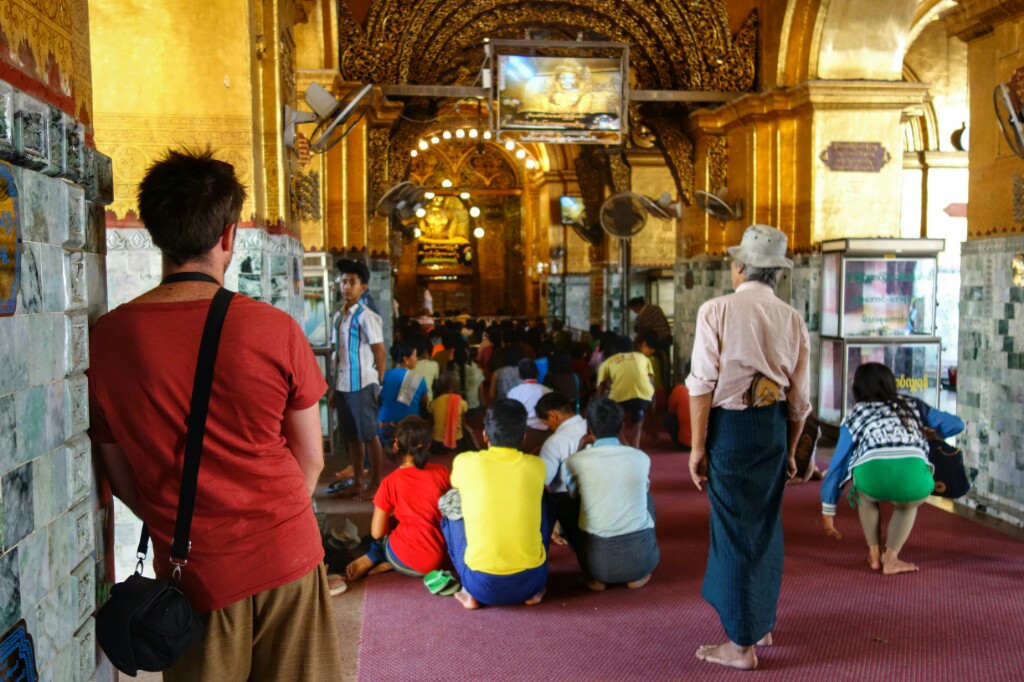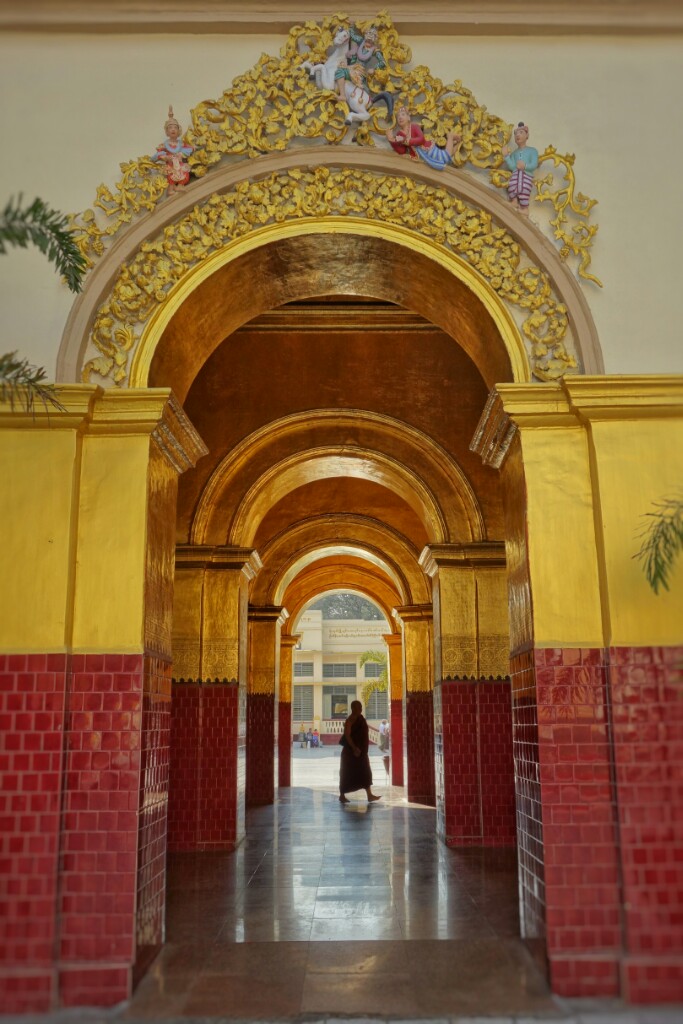 On our last evening in Mandalay we watched the sunset over U Bein Bridge with a beer. The bridge is 1.2 kms long, was built around 1850 and is believed to be the oldest and longest teakwood bridge in the world. You could tell it was old and I was a bit worried about it collapsing with so many people on it!! I'm glad it lasted at least one more day for us to go and see it.
Naypyidaw – "City of Kings" (city of weirdness more like)
We went to Naypyidaw to see what this recently built "capital" city of Myanmar would be like – we had read that it was a huge city, built from scratch in secret, and was basically empty except for government workers and officials. In 2005, the government declared the existence of this new city and officially renamed it as their capital. I have never heard of any place like this and wanted to see it for myself. You could draw comparisons with Canberra, however Canberra was all done publicly, prior to any other cities being the capital, and well before the population of Melbourne or Sydney reached the millions! (8 Million in Yangon).
Driving into Naypyidaw on the bus we weren't disappointed. Everything we had read about the appearance of this city turned out to be true. The lack of people and chaos made it feel like we were no longer in Myanmar. No other place in the country was even remotely similar.
Our hotel was seemingly empty except for the employees, and when we ate there we were the only ones in the dining room. They took us from reception to our room on a buggy (a bit fancier than what we were used to) and on the outside seemed like a nice place. It was just missing the people, and we discovered later a few strange things that were likely the product of poor planning and building the place too fast.
We hired a scooter to go and do a little exploring and it didn't take long until we both started getting really strange heeby jeeby feelings from the place. Our first stop was at the gems museum, a massive building filled with all sorts of precious stones etc. Again, lots of employees but no visitors. Same with the water fountain gardens we went to next. Although as we were leaving all of a sudden music started playing, the water fountains started working and lots of young people seemed to materialise out of nowhere.. All apparently having a good time. This was even weirder than having no one!! Our last stop was the massive Uppatasanti Pagoda (a replica of the one in Yangon but built 1 ft smaller in respect). It certainly did not have the same feel of religious significance to us as the ones in Yangon and Mandalay, but perhaps the Burmese feel differently. It was also not near as busy as the others, but you could go inside which was pretty impressive. We still got an uneasy feeling and the police and bomb squad presence didn't help. Leaving the pagoda we came upon a procession of people, they were carrying dressed up girls to the pagoda for what we think is a bit of a right of passage (although I can only find it being for boys online). It was impossible to ask what it was as no one speaks English, in fact we were such a novelty we were getting photos taken of us and a man came over and shook Matt's hand. Naypyidaw was certainly a strange and interesting experience, but I must say I felt better when we were outta there!
The diversity of Myanmar is apparent both within each of these cities and also between them. Despite all the craziness, on our last night we found a rooftop bar, had a cocktail, took it all in and said a final farewell to this amazing country.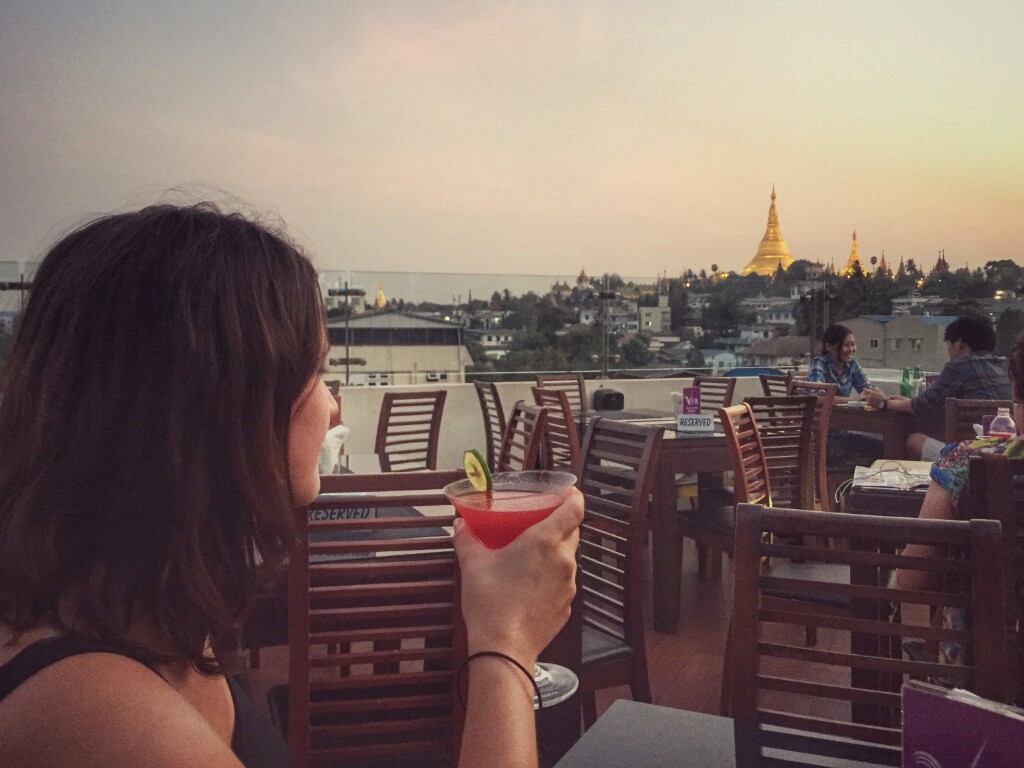 Sheree.