Hi Everyone, We are now in Penang after a long 14 hour long and F-ing cold train trip here. A quick summary of our goings on in Singapore follows:
Basically we wanted to check out some of the sites in Singapore that are worth visiting. These aren't cheap but hey, you gotta make the most of the big cities and their attractions. We started with a day at the zoo, well, half a day and half a night as we did the day zoo and then we did the night zoo. We both dont want to go to a zoo again. Look, don't get us wrong they were great! Especially the Night Safari however there is only so much animal looking one (or two) can take. Particularly because Sheree is already from the country where there are animals everywhere and Matt is basically an animal. We will put up links to Sheree's Flickr Album where you can see some pics of the animals!
On the next day in Singapore, we did some reconnaissance to the KTM Malaysian ticket booth to book our trains to Malaysia, which is Woodlands Station. We assumed that this Woodlands Train station was the very one that is on the Metro Line. Simple right? Wrong. Malaysia trains leave from ANOTHER "Woodlands Train Station" which is an extra 15 minute bus ride. Once getting there a fairly unhelpful ticket guy wanted to charge us triple the fare to get to Penang! Stuff that. So long story short we ended up spending 6 hours of this day doing recon on how to go to Malaysia, and ended up booking it online back at our hostel! Amateurs!
This day definitely got better though as we visited the Gardens by the Bay which were awesome and the air con/waterfall was extremely refreshing! After this we caught up with friends Ben and Steve for an all-expenses paid (Thanks guys) night out at Dallas Bar which was fantastic, overlooking the water in downtown Singapore.
Turns out, as usual, this was not a quick summary. Sorry!! But get used to that!
Next day we got up at 5:45 feeling fairly dusty and began the journey to Penang at about 6am, arriving our Hostel on the Island of Penang (the ferry only cost 30 cents 🙂 ) at 1030 that evening. Wow even typing it is making us feel exhausted.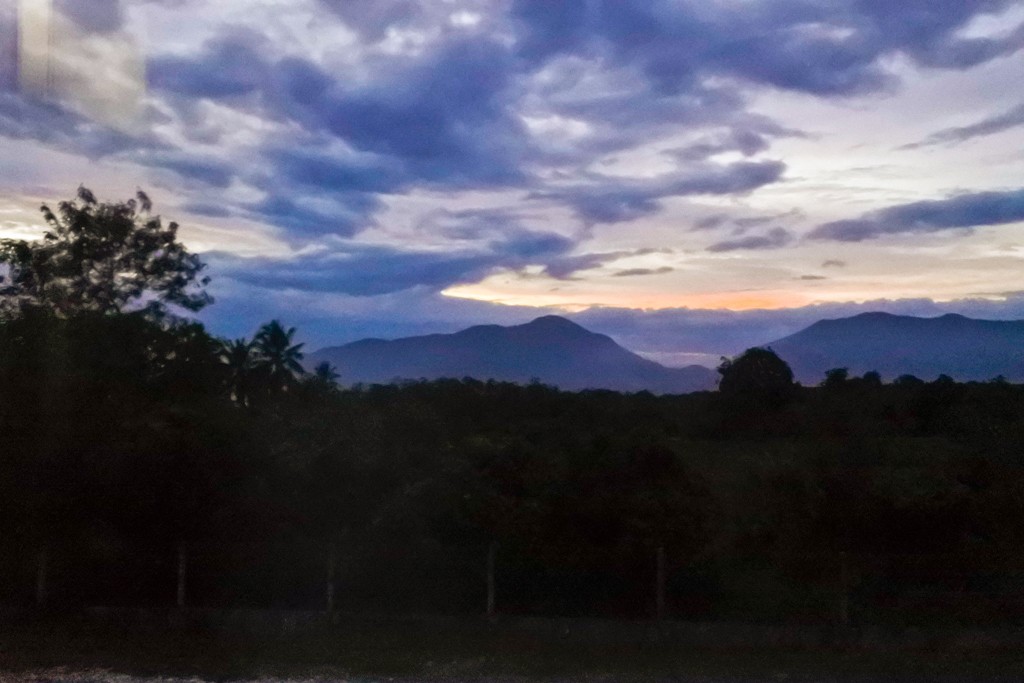 Description of Penang time follows:
Having left Singapore, which feels less like Asia and more like a big western city we have now arrived in what we regard to be real South East Asia, home to the toilet squirter hose thing, much to Matt's delight and Sheree's disdain. While typing this Sheree remarked "I just don't get it hey……" Oh well you can't culture everyone on everything. Sheree made up for not using the toilet squirter by today unknowingly ordering Lamb intestine! We had no idea what it was until an Indian guy said it was lamb and grabbed his stomach. Delicious.:
Georgetown is home to some fabulous British colonial architecture, and is the former capital of British Malaya in early 1800's (even though the British took control earlier than this in the 1700's). At some times when gazing upon the beautiful white colonial buildings it can be easy to forget we are in South East Asia. Until a 2 stroke scooter screams past and the smell of street sewage wafts up into your nostrils. Overall it is a fairly charming place with influences from India, China, Malaysia and the British.
We are spending the next night here and then onwards across the Malay border with Thailand and to Krabi and then onwards to an Island of our choosing once we arrive!
selamat tinggal everyone Hope all is well back home.
Sheree's Flickr Album (Click photo for more!):

This entry was posted in
Singapore
,
Southeast Asia