The day had come. We were finally leaving China and heading well, into the even more unknown. We, like most at home, have no idea what the 'Stans look like, who lives there, what people eat and more. Even after doing extensive googling we still didn't really have a clear picture in our heads. We knew they have two major cities in Kyrgyzstan; Osh and Bishkek. One is in the south and one in the north and that they are separated by some pretty substantial mountains, with one road link, that is often closed due to weather. Based on where we were in Kashgar, we assumed Osh would be similarly dry and quite hot and were pretty eager to get moving quickly once we arrived there, albeit with a bit of a rest for a couple of nights. Well we could not have been more shocked at the suddenness of the change of landscape between the two countries of China and Kyrgyzstan. It was as if when we literally crossed the border,  green grass appeared and the water in rivers literally changed from brown to clear blue and changed direction. Coming from such a dry climate in Western China it's needless to say we were bloody stoked with what we were seeing!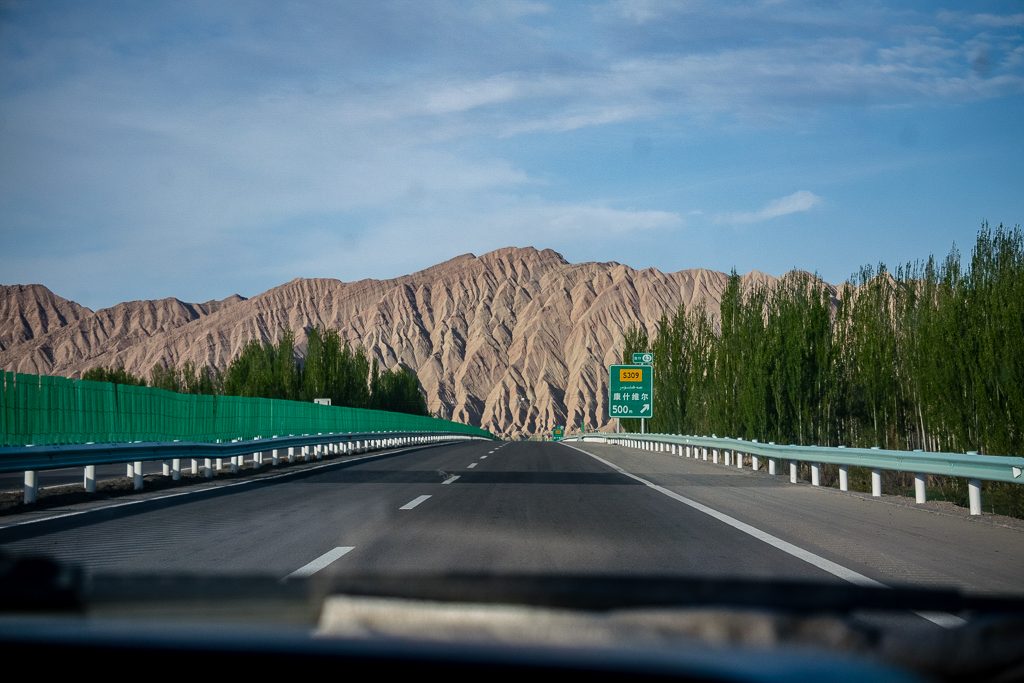 Leaving China though was a frikkin hassle. We (Sheree, myself and German guy) had to arrange a taxi to a village called Wuqia (or Ulluquat in Uygher language) and try and find Chinese Immigration – which conveniently is only 140km from the actual border (read – sarcasm). This was uneventful except for the taxi driver doing the "Heil Hitler" salute to the German when he found out where he was from…. Very awkward. Upon arriving in Wuqia, our taxi driver dropped us at a bus station, which took us about 15 minutes to realise wasn't immigration. Here they played on loop, China's classic world domination dancing people video, which shows countless men, women, children, elderlies, ethnic minorities, all dancing the Chinese Square Dancing style, almost as if to say "This is how we dance motherfuckers and we won't stop until your all doing it with us". Now that is obviously massively unfair and almost racist but hey! I've been in China for a month and was so ready to leave, that was my minds take on it! We managed to get another taxi driver that took us to 3 buildings that kinnnnd of looked like the immigration building, but they weren't it, until i finally found a google earth point of where it was meant to be, and we finally got dropped off, at 11am right when they opened! Perfect! Here they checked our passports 3 times, and arranged for a taxi 140km to the border.
Now, we had read that this part was the worst section and, due to the poor condition of the road can take at least 3-4 hours!! However, luckily for us, they had finished construction on a new road, that, was so new that they were still painting the girders on it! So this part took us about 1 and a half hours. It wasn't without its issues though. The taxi driver had problems with his ignition and his car kept conking out, meaning he had to keep turning his key off and on until it fired again! Bloody hell. Plus he enjoyed taking blind corners on the wrong side of the road and just driving plain too fast. Finally though we did reach the border, with a pretty stunning view of Kyrgyzstan in front of us! We got dropped off right on the border, where we were confronted with a big sign in Cyrillic! Woohoo! No more Chinese characters! I can usually make out some things in Cyrillic so this was a relief, and also kind of surprising as we were expecting more arabic script (as in Kashgar), somewhat naively ignoring the fact that the Stan's were under soviet rule for like 100 years.
Scroll right for more photos
After crossing the border, we jumped into a shared taxi (Kind of a private car that leaves when it's full) climbed extremely high in altitude, maxing out at approximately 3,500m above sea level where all we could see was snow all around. It was pretty amazing. Coming down in altitude, we really started seeing what this country was all about. Livestock everywhere, horses, sheep, cows, people on horseback, old soviet style cars, Eastern European looking houses – it was all looking so surprisingly different and very exciting to us, as it felt like we were entering Europe from the far far east, rather than still being in Asia as we know it. Things were going to be pretty different from now on! I have read now while here, that Kyrgyzstan is like Eastern Europe of 30 years ago, and that is what it feels like to us, having travelled Eastern Europe before – it is so much like that but less developed.
Scroll right for more photos
As we climbed lower, the grass got longer and greener, people seemed happy, we were happy and clearly the horses were happy! It was a good travel day and was overall one of my favourite border crossings that we have done.
Upon arriving at our hostel, due to our room not being ready, they upgraded us to an apartment! It was perfect for us as we could cook our own food and chill out while letting our stomachs continue to recover from the episode in Kashgar. We extended our stay an extra night and then booked a shared taxi for Bishkek, the capital in the far north of the country. We will stay around here and Lake Issykul (the worlds second highest alpine lake in the world) for about 2 weeks before heading to Almaty in Kazakhstan for a week.
So we have really concluded our "Asian" leg, after a mammoth effort getting across China and we are both really looking forward to this next leg which will lead us into Europe!
Thanks for reading, it's nice to know some people at home are following our journey and are able to see some of the different places that we are seeing on this journey.
Matt